We can't do it without you... No way, no how!
Farm Rescue is bigger than any one person or one business. We are a community of people who deeply care about family farmers, rural communities, agricultural prosperity and people across America who depend on reliable, high-quality food supplies.
It takes all of us, working together, to make a positive difference in our own backyard! 
If you haven't already done so, please consider making an annual contribution to Farm Rescue! We are proud to be recognized as a reputable and vital nonprofit organization in the Upper Great Plains. We are even prouder to recognize those businesses and organizations that help put Farm Rescue volunteers to work in the fields for families in crisis! Please view the chart below for recognition given at each sponsorship level - Legacy, Elite, Premier, Signature, Diamond, Emerald, Platinum, Gold, Silver, Bronze and Copper. Support our mission now by making your first sponsorship donation HERE. Be sure to include the name of your business with your donation!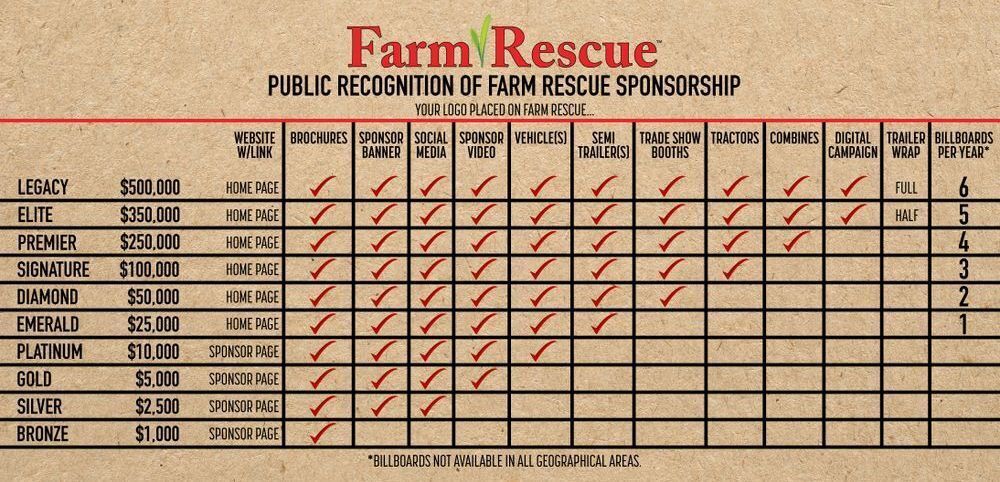 ---
SPONSOR THANK YOU VIDEO - See and hear, firsthand, the impact your sponsorship dollars can have.