May 20, 2022 - Progress!
This week has involved a bit of stop-and-go, but thanks to some rare, consecutive days without rain our teams have finally been able to gain some drier ground. Crew number one spent the earlier part of the week seeding a few remaining acres of oats near Amidon, ND for a farmer dealing with some lingering effects of COVID. From there, they headed west to South Heart, ND to begin planting barley for a farmer who sustained several broken bones when his semi was struck by a train back in February. He is currently confined to a wheelchair and our volunteers have been honored to assist with his planting operations as he continues his recovery. Crew number two spent the majority of their week near Ashley, ND, seeding a few hundred acres of peas and barley for a producer battling a nerve condition that affects his muscle function and balance. They had nearly completed their work when overnight rain showers delayed their finish. After a day of sun and strong winds, they were able to resume their efforts and tackle their remaining acres. They've since moved to Bismarck, ND to plant wheat for a farmer currently undergoing cancer treatments. Crew number three was also able to wrap-up their efforts near Red Wing, MN for a farmer dealing with a spine infection that continues to limit his mobility. After several rain delays near Charles City, IA, crew number four was finally able to make progress in the field. They began planting corn and soybeans last Friday for a farmer who sustained a knee injury after being kicked by a cow. Weather conditions held steady and these volunteers were able to put the finishing touches on their work early this week. Our John Deere 8R tractor has now been transported to western Minnesota as we look to tackle several planting assistance cases in this area with our DB60 row crop planter. A fifth volunteer-led planting operation near Wamego, KS has been stalled on multiple occasions due to wet weather, but our volunteers have been helping in other areas in the meantime. After performing some maintenance on the farmer's equipment and feeding cattle, conditions are finally right for fieldwork. Our volunteers will be planting several hundred acres of soybeans for this family as they recover from illness. 
Unfortunately, much of our service territory is still waiting for fields to dry and the rain seems to make an appearance every couple days. Our schedule is still full and our volunteers are ready to make more progress as Mother Nature allows. It's definitely going to be a busy couple weeks ahead, but we are blessed to have the world's greatest team of do-gooders powering these efforts. A big thanks to this week's Farm Rescuers in the field - Tom Meyer, Ron Donohue, Rich Thuesen, Garry Deckert, Kenny Crites, Mike Youngblood, Matt Blaylock, Chris Batdorf, Chris Davison, Mark Baumgarten, Ken Enstrom and David Parker. Your dedication to this mission is truly awe-inspiring!
I type these words as I sit in a hotel room south of Milwaukee. Several of our staff members and volunteers are honored to have received an invitation to a unique event tomorrow in Big Bend, WI. John Deere and Busch are teaming up to host Cornfield Cornhole to celebrate the launch of their co-sponsored can promotion "For the Farmers". For every case sold of their John Deere-themed Busch Light cans, each company will be donating $1 to Farm Rescue (up to $100,000 each). Cornhole players from across the region will be competing throughout the day in hopes of earning a spot on the "big board". This plus-sized version of the game will involve launching a hay bale onto an extra large board with help from a John Deere 8RX tractor. There will be food trucks, beverages and entertainment, as well, and I look forward to sharing some in-person videos and photos of these festivities on Facebook and Instagram. Farm Rescue is also blessed to have our own booth space at the event, where visitors can chat with our staff and volunteers about our organization. We are so thankful for this opportunity to spread word of our assistance efforts to a much larger audience. Be sure to follow us on social media to see all of tomorrow's activities, and cheers to the farmers!
Until next time,
Dan Erdmann - Program Manager
---

May 13, 2022 - For the Farmers
As I think back on the past 7 days, there is a definite "liquid theme" to this week's update. Frequent heavy rainfall has further-hindered progress for our scheduled planting assistance efforts, with torrential showers dropping several inches of precipitation in several portions of our northern service territory. Strong winds and reports of some tornadic activity accompanied a large swath of thunderstorms last night, downing trees, grain bins and several out-buildings in their path. One of our most well-known supporters, Zach Johnson (The Millennial Farmer), was among those impacted by these storms. Despite losing several trees and sustaining damage to a grain bin, a shop and several pieces of equipment, he and his family were thankfully unharmed. Sending our prayers and well wishes to all who sustained similar damage, and we hope you're able to carry out your necessary spring field work, once conditions finally allow. 
In spite of these latest weather delays, our volunteer crews have been extraordinarily patient and understanding. These do-gooders typically block-off specific dates on their calendar to support our efforts, so it's always disappointing when Mother Nature throws an unexpected curveball. Two volunteer teams delivered our air seeding units to farms near Amidon, ND and Ashley, ND in preparation for planting. Crew number one managed to seed 95 acres of oats before the next round of rain arrived near Amidon. This assistance is being provided to a farmer battling some long-term effects of COVID. They hope to resume operations within the next couple days if weather cooperates. Crew number two is anxiously awaiting some drier conditions in Ashley, as they plan to seed peas and barley for a farmer dealing with a nerve condition that impacts muscle function and balance. A third crew is currently in Red Wing, MN, readying to plant corn for a farmer battling a spine infection that has greatly limited his mobility. 3+ inches of rain have halted their progress, but they're lending a hand to a few other tasks on his farm as they wait for conditions to improve. Crew number four is in Charles City, IA, planting corn and soybeans for a farmer who was injured by one of his cows. Rain delayed their initial start, but they're happy to be working in the field today as talk of more precipitation looms. Finally, our fifth crew has been dealing with some weather delays of their own near Wamego, KS, as they look to complete a couple hundred acres of corn for a farmer battling illness. Our schedule continues to fill up with assistance requests and our windows of opportunity continue to shrink by the day. Like most farmers in the region, we're hoping for a few days of peaceful forecasts to keep things rolling in the right direction.
On an unrelated note, I wanted to share a random, yet uplifting story from earlier this week. As our volunteers began their trek West from the Fargo area to position our air seeders, they stopped to fuel up in the small community of Enderlin, ND. Before they had a chance to insert their card for payment, a random gentleman approached to express his thanks for their service and offered to fill both tanks on his own dime. I don't have to tell you how much this gift means to our organization, with the volume of fuel required to fill the tanks of two 9620R John Deere tractors, and the incredibly high cost of that fuel at the moment. This man wanted no recognition, but I felt his generosity was worth highlighting. These types of Good Samaritans are the unsung heroes of Farm Rescue, and these are the stories that provide a nice dose of inspiration in a week filled with weather-related frustration. 
I was always taught to never bury the lead, so I apologize for saving the biggest news for last this week. We are beyond excited to finally announce an incredible co-promotion from John Deere and Busch Light, with the launch of their "For The Farmers" cans. Each has pledged to donate $1 from every case sold to support our assistance operations for farm families in crisis. Individually, these two companies have already provided tremendous support to our assistance operations and this latest partnership will provide an even greater boost to our volunteer-led efforts. We are so thankful for this wave of generosity and the love we've been receiving from folks across the country. Keep your eyes peeled for these beautiful green cans at a store near you! We are also honored to be invited to a special event in celebration of this co-promotion next Saturday, May 21 in Big Bend, WI. Guests will have an opportunity to participate in Cornfield Cornhole, competing in the standard version of the game throughout the afternoon to earn a spot on the BIG BOARD. This will involved launching a larger bean bag via slingshot, with help from a four-wheel-drive John Deere tractor. Musical entertainment, food trucks and beverages (not just beer) will be available and Farm Rescue will be manning our booth to share more information with visitors throughout the day. Needless to say, it should be an entertaining event! If you'd like to join us, visit Busch.com/ForTheFarmers to reserve your free ticket.
Lastly, I want to express our appreciation for all of the amazing volunteers who served our mission this week --- even if that service evolved from its original form. Thank you to Chester Arnold, Steven Satterthwaite, Mark Burton, Mike Wilson, Glenn Biederman, Mark Baumgarten, Jeff Preston, Brian Payne, Kenny Crites, Angie Wildschuetz, Norman Schmutz, Tom Meyer and Ron Donohue. You are true Farm Rescuers!
Until next time,
Dan Erdmann - Program Manager
---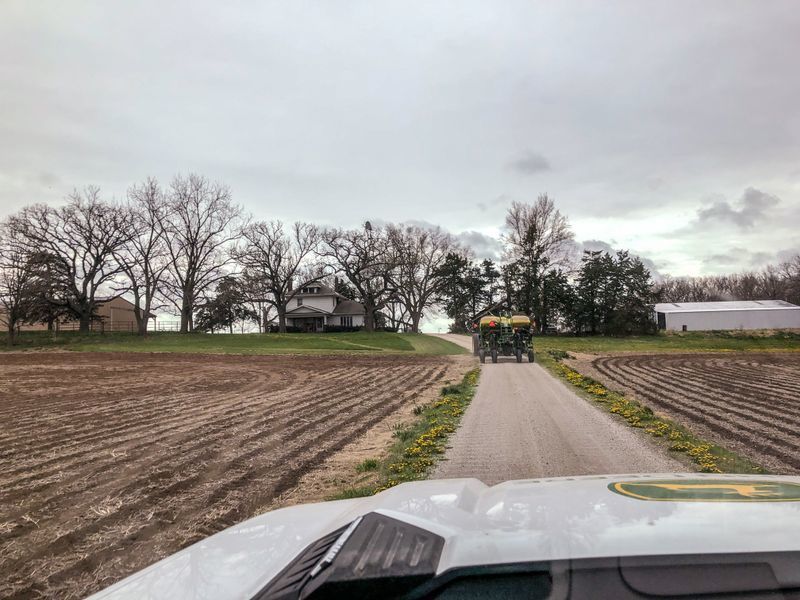 May 6, 2022 - Short & Not-So-Sweet
If you've read some of our previous weekly updates, it's no secret my narratives tend to run a bit long at times. Fortunately for you, this will not be one of those weeks. Unfortunately for us, this means there hasn't been much to report from the field throughout the past 7 days. Wet weather has impacted a large portion of our service territory and despite the great need for moisture in some of these areas, it has resulted in a later-than-average start to the planting season. Our assistance schedule is filling up fast and our volunteers are anxious to make a difference for these families in need. Barring any further setbacks from Mother Nature, we hope to begin seeding early next week for families in Charles City, IA, Wamego, KS, Ashley, ND and Dickinson, ND. If all goes well, I should be back to my regularly-scheduled rambling soon. I'm also anxious to share some very big news for Farm Rescue, so be sure to circle back here next Friday!
Until next time,
Dan Erdmann - Program Manager
---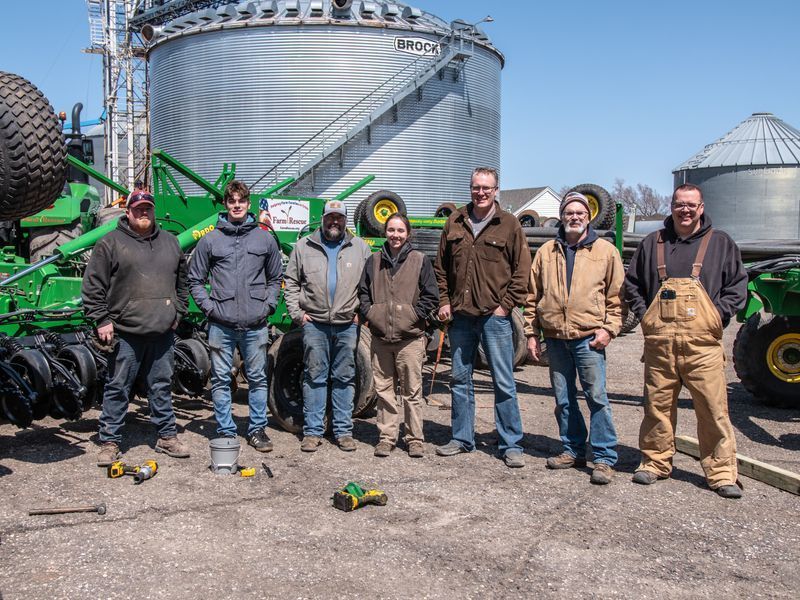 April 29, 2022 - The Gear-Up
As the thaw-out continues in the northwest portion of our service territory, Mother Nature is delivering other challenges to producers across our assistance footprint. Moisture has delayed planting for many throughout the region, while our southern states are battling extreme drought that has fueled several wildfires. Nebraska has been hit especially hard by these most recent blazes and we're currently assessing how we might best serve those affected. In Kansas, our volunteers wrapped up planting last weekend near St. George for a farmer recovering from a broken leg. From there, they moved to Wamego, KS to plant corn for another farmer battling illness. After seeding the final acres for this family, our crew is now prepping for another illness-related assistance case in the Jayhawk State. This week, we were also honored to haul the final loads of hay to ranchers impacted by December's Four County Fire in north-central Kansas. We know these families still have a long road ahead, but we pray this effort has provided some level of relief as they continue picking up the pieces. A separate pair of volunteers spent a few days this week hauling equipment to Iowa, as we ready for more corn planting assistance near Charles City for a farmer recently injured by a cow. They hope to begin seeding soon to allow for his continued rest and rehab.
Closer to our home base in North Dakota, it's been a week of overhauling and maintenance as we gear up for a busy planting season once conditions allow. I've already mentioned the generous donation of parts we received several weeks back from John Deere Seeding Group in Valley City, ND. Their contribution of new rock shafts and accessories will have our air seeding units running like new, but they first need to be installed. Dan Altepeter and his incredible team from Air Seeder Parts, LLC truly rose to the challenge, donating their time, energy and resources this week to swap-in these components. One air seeder is now ready to hit the ground running and our second isn't far behind. Some of our local volunteers have now picked up the torch to complete the overhaul, and they spent this morning in the rain doing just that. This support truly means the world to our organization and we are honored to receive such overwhelming generosity from all those involved in this project. Many thanks to those serving as our boots on the ground this week in the fields, on the roads and crawling under equipment! Thank you to Dan Altepeter, Craig Nice, Alexis Nice, Griffin Robertson, Mikey Kopecky, Jeff Moen, Joan Swartz, Albert Lautenschlager, Bob Miller, Kyle Thormodson, Garry Deckert, Greg Kalinoski, Mike Youngblood, Paul Zierke and Joe Nasset. You are true Farm Rescuers!
Until next time,
Dan Erdmann - Program Manager
---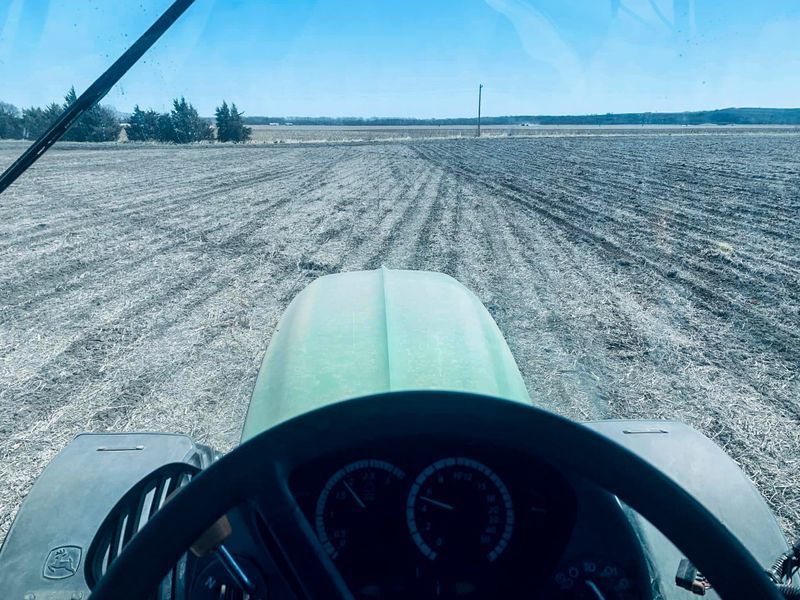 April 22, 2022 - Weather or Not
If you took the time to read last week's longer-than-average update, you'll be pleased to know we have a few less items to catch-up on throughout the past 7 days. Like any farming year, Mother Nature continues to dictate our abilities in the field. Some portions of our service territory received more than 4 feet of snowfall within a week's time frame. This same region is now forecasted to receive several more inches of snow over the weekend, with blizzard conditions impacting travel and cattle operations throughout eastern Montana and western North Dakota. As I mentioned last week, this part of the world was in dire need of moisture, but it's definitely going to take some time for fields to be ready for seed. 
In the meantime, our volunteers have kept busy this week in our southern territory, planting a few hundred acres of corn and beans for a Kansas farmer who recently broke his leg. They've enjoyed getting to know this wonderful family and also appreciated some additional tech support from local John Deere dealer and Farm Rescue sponsor, PrairieLand Partners, to keep operations running smoothly. They hope to complete their work today near St. George, KS and make the move to our next assistance case in Wamego, KS. Throughout the past couple weeks, one of our volunteer drivers, Joe Nasset, has kept busy delivering additional loads of hay to ranchers affected by late-December's "Four County Fire" in north-central Kansas. Each load includes around 5 hours of travel time and Joe will have delivered 16 loads by the time he returns home early next week. He has been crucial to our relief efforts and we couldn't be more thankful to have Joe on our team!
Last week's update also included news on the incredible donation of parts we received from John Deere Seeding Group in Valley City, ND. These new rocks shafts and other components are ready to be installed on our two air seeding units, but the weather has delayed some of those plans. Barring any further setbacks, we hope to have these parts installed and ready for planting season by the end of next week. Like many projects, this one will involve a number of generous volunteers and that's worthy of a big preemptive, "Thank You!" We also want to extend our sincere appreciation to this week's volunteers in the field and on the road, including Joe Nasset, Mike Wilson, Mike Youngblood, Paul Zierke and Garry Deckert. Your dedication to this mission is truly awe-inspiring!
Until next time,
Dan Erdmann - Program Manager
---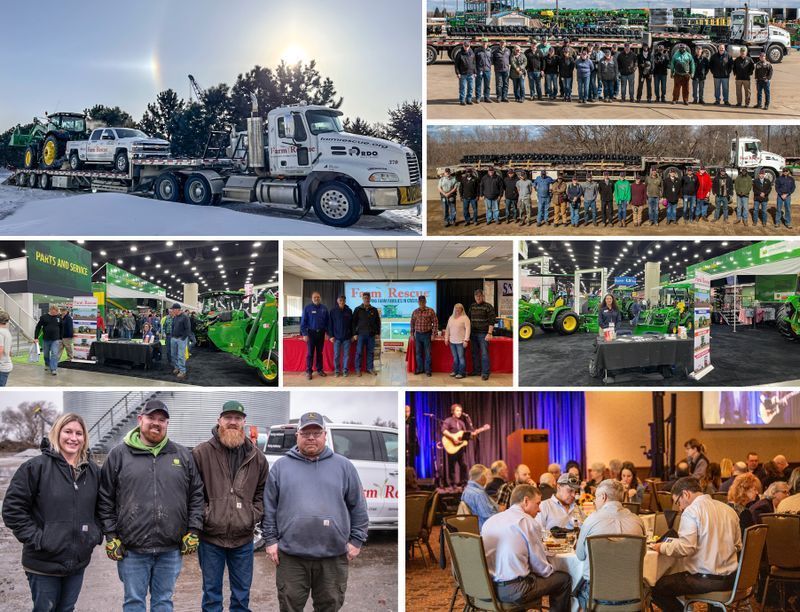 April 15, 2022 - Bringing You Up to Speed
You might assume an organization that spends much of its time in Midwest farm fields assisting families in crisis would not be as busy in the winter and early spring months. I'm here to tell you, that couldn't be further from the truth! 2022 has already been an eventful year for Farm Rescue and our incredible family of volunteers, so it's probably a good time to catch you up on a few activities. 
Just before the start of the new year, wildfires raged in north-central Kansas, leaving a path of destruction in their wake. Cattle were lost, several homes and outbuildings were turned to ash, and a large amount of vital livestock feed was destroyed. Thanks to our volunteer drivers and our incredible Development Officer, Lynne Hinrichsen, Farm Rescue was quick to respond with hay deliveries to many ranch families affected by the blaze - which came to be known as the Four County Fire. After an initial surge of deliveries, our volunteer drivers have been busy in Kansas throughout the past couple weeks to deliver several more loads of hay to impacted families and herds. Local John Deere dealer and Farm Rescue sponsor, PrairieLand Partners, has also been an incredible asset to these ongoing relief efforts. Early January also brought the year's first Livestock Feeding Assistance case near New Leipzig, ND. This particular rancher was in need of support amidst surgery and recovery, and our volunteers were quick to respond during one of the harshest periods of winter to ensure his cattle remained fed. 
Winter and early spring were also a busy time for farm shows. Although we can't attend as many of these events as we'd like, they do offer an amazing opportunity to share our mission with new supporters and those who may benefit from our services down the road. Throughout January and February, some of our staff and volunteers were honored to attend shows in Minot and Bismarck, ND, as well as Des Moines, IA and Louisville, KY. We are blessed to receive donated booth space for many of these events and for this reason, we want to extend a big thank you to KFYR, KMOT and John Deere for allowing us to participate in these farm shows. 
Late March brought the return of a long-awaited event - the annual Farm Rescue Banquet! After 2+ years of COVID-related postponements, we were pleased to gather in Bismarck, ND for an evening of fellowship amongst our staff, volunteers, sponsors, farm families and other supporters of our mission. It's always a blessing to see all of these folks together in one place, and it's another great reminder why so many people support Farm Rescue's efforts. The banquet also highlighted two of our longtime volunteers as this year's Good Samaritan Award winners - Garry Deckert and Charlie Bartsch.
Preparations for spring's work had already begun around the time of the banquet, which include readying our vehicles and equipment for a busy few months ahead. We also received a tremendous boost to our planting assistance efforts, courtesy of John Deere Seeding Group in Valley City, ND. Our air seeding units cover a large number of acres and road miles on an annual basis, so occasionally, these machines need updates and refurbishment. John Deere Seeding Group has been very kind to us throughout our history, and the company went above and beyond yet again to supply new rock shafts and other state-of-the-art components to overhaul our two air seeding units.  A few weeks ago, Farm Rescue staff and volunteers had the opportunity to meet the employees responsible for building the components, as they were loaded on our semi trailers. These parts will allow us to serve many more families with reliable equipment throughout the years ahead. A separate volunteer crew from John Deere Seeding Group in Moline, IL also provided some incredible equipment support during their trip to Fargo/Moorhead last week. This team spent several days servicing our John Deere DB60 row crop planter, prepping it for our fast-approaching field work. It probably goes without saying, but having machine experts like these on-hand to perform this maintenance goes a long way in ensuring the quality of our volunteer-led assistance efforts!
Thanks to 2+ feet of snowfall this week throughout much of North Dakota and portions of Montana and South Dakota, spring planting may begin a little later than expected. Some of these areas were in dire need of moisture, but this latest winter storm has created plenty of new challenges. Our hearts go out to the many ranchers working to care for their herds during these unbearable blizzard conditions. As Old Man Winter fights to extend the season, we have officially begun our planting efforts this week near St. George, KS. Despite some rain delays of their own, our volunteers were pleased to begin seeding corn for a farmer who recently broke his femur. We hope he can return to his tractor cab soon, but we are pleased to allow this period of rest and recovery in the meantime. 
As you can see, there has been no shortage of activities these past few months and things only get busier from here! Of course, none of our work is possible without a tremendous support system of volunteers, sponsors and donors. We thank each and every one of you for standing behind us and allowing this mission to continue for another year. Special thanks to all who have volunteered their time thus far in 2022, including Joe Nasset, Ron Hinrichsen, Lynne Hinrichsen, Garry Deckert, Albert Lautenschlager, Paul Richardell, Brian Johnson, Aaron Gray, Kathy Klauer, Jack Limke, Genita Limke, LaDonna Erdmann, Vane Clayton, Bob Head, Jill Schaefer, Joel Newman, Jay Newman, Jim Newman, Nikki Johansen, Andy Jewett, Mike Youngblood and Mike Wilson. Sorry to anyone I've forgotten! We are truly looking forward to an incredible year of service ahead!
Until Next Time,
Dan Erdmann - Program Manager