Meet the Volunteers
Warren Zakopyko: The Man with the Smile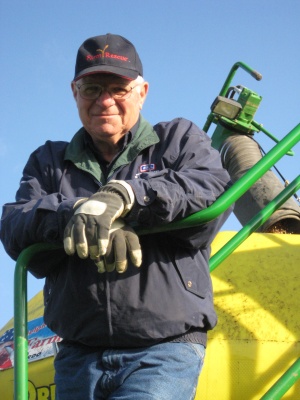 Without a doubt, Warren Zakopyko of Balfour, ND, is Farm Rescue's man with a smile. It never roams far from the face of this warm, gentle being. In fact, Webster's has a picture of Warren beside the word "good-natured."
When you meet him, he'll tell you that his name is Warren... "don't worry about the last name." He is quick with a story, a joke, a laugh.
But the assistance given to farm families by the man with the last name that is hard to pronounce, is no joke. Since 2007, Warren has been a valuable Farm Rescue volunteer! Read more about him below:
Q: What prompted you to join the organization?
A: I heard about it and thought it would be good to help people out that are in need and less fortunate than other farmers.
Q: What is your work/career background?
A: I have farmed, had cattle, and did and still do shop work.
Q: What is your favorite Farm Rescue moment or memory?
A: I have enjoyed working with all the people we have helped, especially when you see how happy they are that someone has come to help them out. It is fun to be with the families with children and get to know all of them. The first years working with Gene Spichke and Bill Krumwiede were memorable, too.