Meet the Volunteers
Lowell Rothmann of Washburn, ND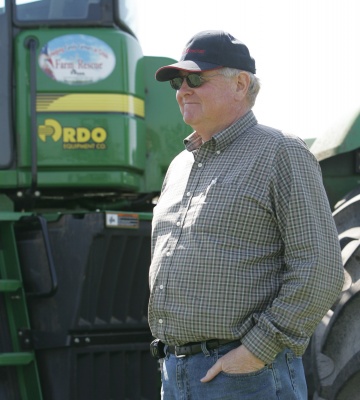 Photo by John M. Steiner
For a man who has spent much of his working life in front of people - students and parents - as an educator and principal, Lowell Rothmann has spent an almost equal amount of time alone, behind the wheel of a tractor or combine as a longtime farmer himself. Personable and knowledgeable, he provides a reassuring presence in the field as a Farm Rescue volunteer. A presence that is all too often camera shy, as we are finding out!
While Lowell's likeness is rarely captured on film, his presence and dedication to Farm Rescue is felt by farm families and fellow volunteers alike. Thank you, Lowell, for making a difference in the lives of farm families!
Q: What prompted you to join the organization?
A: A friend and neighbor, Wes Doepke, was aided by Farm Rescue in 2007, while he was recovering from burns sustained in a combine fire. I thought that would be a good way to help those in need and a way to meet new and interesting people, whether it be the volunteers or the ones we are assisting.
Q: What is your work/career background?
A: I had a 31-year career in education. I taught at Bottineau, ND, from 1968-1975. My remaining 24 years (1977-2001) in education were spent as the elementary principal at Washburn. My farming career spanned from 1975 until retiring in January of 2008.
Q: What is your favorite Farm Rescue moment or memory?
A: My favorite memory was the 2008 Farm Rescue banquet... talking with and listening to those that had been assisted, and hearing their stories about the heartfelt appreciation they have for the Farm Rescue organization. The number two item would be all the Smokey Wright stories!