Meet the Volunteers
Gene Spichke: ND Team Leader - Spring '09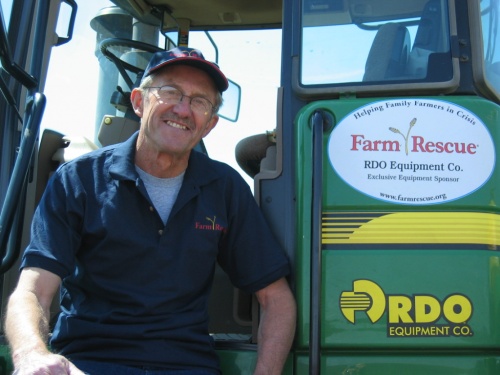 At Farm Rescue, a lot of things are possible. Even turning a volunteer's two-week work commitment into three years! Enter Gene Spichke of Kief, our team leader in North Dakota for the 2009 planting season.
It goes without saying that Farm Rescue volunteers are cut from a special cloth. And like the other Men in Blue, you would be hard-pressed to find a more giving and caring man than Gene Spichke.
"The good Lord didn't put us on this earth just to help ourselves, but to help our fellow man," he will tell you. "The satisfaction of helping people who are hurting is a reward in itself. We probably get more out of it than they do."
Thanks, Gene, for all you do for Farm Rescue!
Q: What prompted you to join the organization?
A: While attending the Ag Expo farm show in Minot in January 2007, I stopped at the Farm Rescue booth and talked with Bill Krumwiede and Kathy Duchsherer (whose friend had been helped by Farm Rescue in 2006). I had heard of Farm Rescue before and was impressed with what they were doing. I felt this was something I could do to help others, now that I was retired. I thought I would help out for a couple of weeks but now, three years later, I'm still helping because so many farmers are in need and it is so rewarding.
Q: What is your work/career background?
A: After college and two years in the U.S. Army, I got married and took over the family farm... and farmed until I retired. I then worked one year for the USDA Ag Statistics Service before volunteering for Farm Rescue.
Q: What is your favorite Farm Rescue moment or memory?
A: My most memorable moments are not one but each and every time we complete a farm, either planting or harvesting. We get such heartfelt and sometimes tearful thanks of appreciation. Also, the comradeship I have working with such a great group of guys.