Meet the Volunteers
Charlie Hardie of Fairmount, ND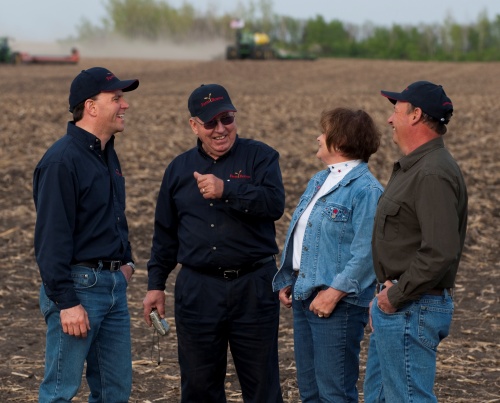 Photo by Greg Latza
If you are looking for Charlie Hardie, look no further than a crowd of people... he most likely will be in their midst. That's Charlie above telling a story to Bill Gross (left) and Shirley and David Reiffenberger on the Reiffenberger's farm this spring.
In the field or out of the field, Charlie is a committed volunteer and valuable asset to Farm Rescue. He has manned eight farm show booths for us already this year! Always professional in appearance and word, always hard working... that's our Charlie. He is a great people person and spokesman for Farm Rescue, and we appreciate the time he dedicates to our cause of helping farm families in crisis.
Q: What prompted you to join the organization?
A: The willingness to help family farmers in need and the love of farming.
Q: What is your work/career background?
A: My work career is planting and harvesting crops. I am the co-owner of the partnership operation with my sons, called Hardie Grain Farms.
Q: What is your favorite Farm Rescue moment or memory?
A: Harvesting the seed crop of soybeans for a young farm couple who were in desperate need of Farm Rescue at Corona, SD.