Meet the Volunteers
Charlie Bartsch: ND Team Leader - Harvest '09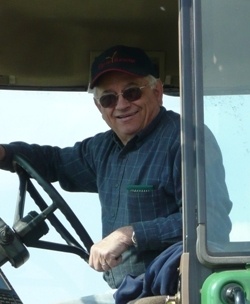 When it comes to Charlie Bartsch, so much of who he is can be defined by his voice.
Yes, there is that delightful German brogue from a man who was actually born on his family's farm in Bergen, ND... a place where he grew up and raised his children as well. Yet it is not the brogue that defines Charlie. It is the kindness in his voice. Unbelievable kindness.
This fall, Charlie has taken the lead in North Dakota by overseeing harvest operations for Farm Rescue. His gentle and patient demeanor has been invaluable when dealing with Mother Nature this fall. Thank you, Charlie, for your tireless and capable assistance to Farm Rescue and families on the land!
Q: What prompted you to join the organization?
A: In January 2008, Gene Spichke was working in the Farm Rescue booth at the ag show in Minot. We started visiting about volunteering for the organization. The very next day I had a call from Mary Kropp at the office in Jamestown. She sent me an application and the rest is history.
Q: What is your work/career background?
A: Worked part time in construction in earlier years while helping my family on the farm, eventually taking over the farming/ranching operation full time and continuing for the next 42 years, when I retired. On the farm, I raised beef cattle as well as wheat, canola, peas, sunflowers and other various small grains.
Q: What is your favorite Farm Rescue moment or memory?
A: When you see the smiles and tears on the faces of the farm families you are helping, you can see that they truly appreciate what we are doing for them. Working with the volunteers and having a great time together makes the work easier, too.