Meet the Volunteers
Bill Krumwiede: Farm Rescue's First Volunteer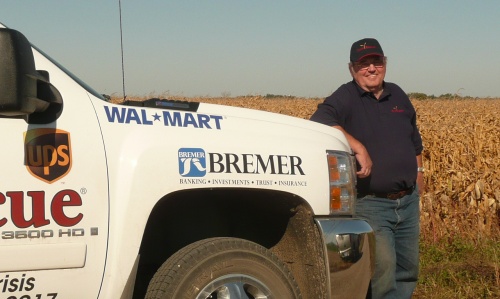 Three years ago, when Bill Krumwiede of Voltaire, ND, was clearing newspapers from his kitchen table, a front page article on Farm Rescue in the Minot Daily News caught his eye. The fledgling organization was looking for volunteers.
"I told my wife, 'Maybe this is something I can do?'" recalls Bill, who was newly retired at the time. "I hadn't farmed in 20 years, but I told Bill (Gross) if he showed me how to run the equipment, we'd get it done."
And that, to the great benefit of Farm Rescue, is how we acquired our first volunteer. He helped plant 10 fields in the spring of 2006, often working through the night. Without his help, Farm Rescue might have been nothing more than a great idea.
Here are Bill's response to other questions we asked, in his own words:
Q: What prompted you to join the organization?
A: Newly retired and I wanted to farm and do some good for people.
Q: What is your work/career background?
A: Raised on a farm and farmed for a number of years while I worked for Basin Electric Inc. until they closed the plant by Velva. I then transferred to Antelope Valley Station north of Beulah, where I worked for 31 years as a mechanic welder. I retired four years ago.
Q: What is your favorite Farm Rescue moment or memory?
A: The Ahmann family we helped at Foxholm. My dad came up and rode in the tractor with me. He was 89 years old at that time. The Ahmann's daughter, Nancy, was so excited to see my dad, whom she stopped and helped along the road one very hot day several years earlier. Now, I was there with Farm Rescue helping put the crop in for her dad.