Meet the Volunteers
Smokey Wright: Farm Rescue's Colorful Character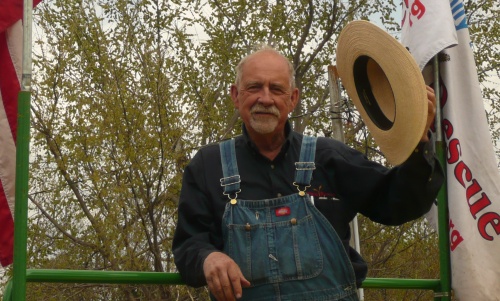 With life experience in construction, the oil fields, oil business, and government service, Smokey can entertain a crowd with his jokes. But for as much humor as he shares, he is twice as driven to help farm families in need. Often times, he doesn't return home for weeks at a time during planting and harvesting season.
Farm Rescue is fortunate to have had Smokey in the fields since May 2007. Read more about him below:
Q: What prompted you to join the organization?
A: I had been reading about Farm Rescue and was interested. I saw Bill Krumwiede at the KMOT Ag Show in Minot during January of 2007. I visited with him, briefly, and he described the organization to me and I thought I liked what I heard. I signed a volunteer slip and the rest is history.
Q: What is your work/career background?
A: I grew up on a grain and cattle farm in Bottineau County. From there I went to college. After that I got in the construction business for three years, working for Peter Kiewit Sons Company to help build Minot Air Force Base and reconstruct the Glasgow (MT) Air Force Base. From there, I went to the "oil patch" for five years working for Halliburton Company. I then went to Texaco for 12 years. While there, I worked as a salaried agent in charge of sales and distribution. Along with that I was supervising new construction and maintenance of the facilities. I was the youngest salaried employee they had, so I had to "hustle" my buns to prove that a younger person could fill the shoes. From there, I went to work for the Department of Defense, being assigned to the Minot Air Force Base. I was supervisor of the fuels maintenance branch. This involved working on systems receiving fuel to the base, storage tanks, several miles of underground pipeline, and monitoring and repairing equipment that furnished fuel to the skin of the aircraft. There were several service stations to maintain, plus we were involved with the fuels at all of the Minuteman missile sites. I spent 30 years there and got to see much of the U.S. of A. by working on projects at most of the bases in this country. I farmed for about 40 years as an owner/operator. I retired after harvest in 2006.
Q: What is your favorite Farm Rescue moment or memory?
A: There are so many. I don't think I have any one particular moment, as there were so many. Perhaps my greatest memories are when we leave a farm and the folks are so appreciative of our helping them and they sincerely thank us.